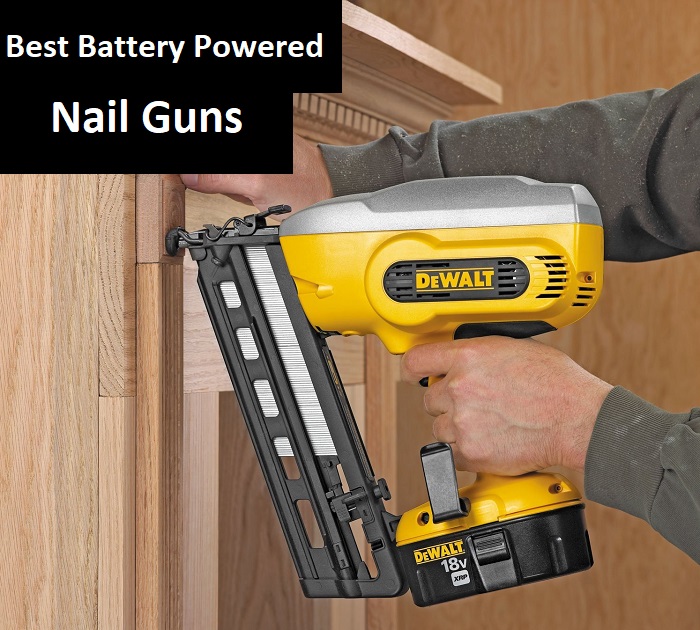 Battery powered nail guns combine the speed of a pneumatic nailer without the hassle of air-hoses and compressors.  Designed for maximum portability, simply pop in the battery and your ready to get to work!
In market for a new nailer but don't know where to start?
Check out our top picks below for some of the Best Battery Powered Nail Guns of 2019.  *options available for the seasoned craftsmen and DIY'ers.
---
Porter-Cable PCC790LA 20V MAX Lithium, 18Ga Nailer
When it comes to price for performance, this is one of our top picks!
The PCC790LA by Porter-Cable is an excellent brad nailer for the professional woodworker or DIY'er.  What makes it so good is that is has most of the features found on the more expensive brands, but at a fraction of the cost.
Features include:
•  Adjustable depth wheel – Allows you to fine tune how far the nail will penetrate into your work surface.  This is extremely handy as different materials will require different amounts of force to achieve that perfect countersink.
•  Lithium-ion battery – For the weight, these batteries offer higher capacity vs older NiCad technology
•  Multi-Functional LED lights – Good to light up your next shot when working in dimly lit areas.  From my experience.  This is one of those features that you didn't know you needed, until you start using tools that have it.
Great Value for the Price
This model is currently offered in a few different bundles.  Including tool with battery, 2 battery bundle and as a bare tool only.  Click the link below to see current bundle options.
**Click here to see Pricing on Amazon**
Even though a pneumatic nailer is typically much cheaper you also have to consider the additional expenses involved with an air tool.  This includes the hose, oil, attachments and the air compressor.
Product Video Below

---
Dewalt DCN680B 20V Max XR, 18 Ga Nailer
Moving up the chain, here is Dewalts 18ga brad nailer featuring a brushless motor.  Part of the XP line, this tool is designed for professionals who require maximum durability day after day.
**Click here to see Pricing on Amazon**
Fully battery powered and compatible with all 20V Max Dewalt batteries.  This is great news if you already use Dewalts 20V Max line of tools since you will be able to swap batteries between drills, saws, nailers and more!
Features include:
•  Brushless motor
•  Micro tip for accurate nail placement
•  LED light to light-up your workspace
---
Tool Tip: What is an 18 gauge brad nail used for?
The 18 gauge brad nail is best used to install delicate wood work and trim.  Due to the smaller nail size it is less likely to cause your material to split.  An example of this would be when working with thin, dry and expensive pine trim.
This type of nail is also useful to "tack" pieces of wood together after they have been glued.  Think of it as a quick and easy clamp.
---
Ryobi 18V Brad Nailer Kit
Kick your woodworking projects into high gear with this Ryobi brad nailer kit.  This kit includes the brad nailer, battery and IntelliPort battery charger.
Dual Firing Modes:
•  Single shot mode
•  Multi-shot mode – hold down the trigger and bump fire up to 60 nails per minute
**Click here to see our list of Top Tools for 2019**
High efficiency electric motor designed to fire over 1,000 nails on a single 4aH battery.  Great for most DIY projects, without the hassle of dragging around a heavy air compressor.  Use it on trim, baseboard and molding.
Features include:
•  Belt Clip
•  LED light to light-up your workspace
•  Adjustable Nail Depth
•  Part of the Ryobi 18V One+ Family (share batteries with other Ryobi drills, drivers, saws and trimmers)
---
Tool Tip: Setup Tips
It is important to double check your nail depth on a piece of scrap material BEFORE beginning work on your project.  Based on the results of the test you can then increase or decrease the depth of the nail using the adjustment on your nail-gun.
*note, not all guns will have depth adjustment.  When shopping for your first brad nailer keep this in mind as you may not find this feature on all models.
Speaking of value priced options, take a look at our review of the Pierce Brand nailer from Harbor Freight (pneumatic version)
**Pierce Brand Pneumatic Nailer from Harbor Freight Review** 
---
What is the best way to hang shiplap?
When hanging shiplap it is advised to start at the floor and work your way up to the ceiling.  Using an 18ga nail, pin the top of the board (tongue) to the wall.  For the bottom of the board, a small 23ga nail should be used as it will create a smaller hole on the face surface.
If that sounds complicated…its not.  Here is an excellent video from Jordan Smith explaining the process for DIY shiplap:

**Pro-tip**
If you plan on painting or staining your shiplap boards.  Do it BEFORE hanging them on the wall.  Not only is it faster and less messy than trying to do it on the wall.  It can be extremely hard to apply paint or stain in-between the board gaps.
As you can see in the video above.  With the proper tools and good technique, hanging your own shiplap to dress up a wall really isn't all that hard.  If you have photos of your own project you would like to share, stop by our Facebook page.  We would love to see it!
---
But what if I don't want to buy an Electronic Brad Nailer for just one project?
If you don't want to lay out the cash for a tool you might use only a couple of times, here are a few options.
Buy a low-cost pneumatic version.  Harbor Freight is a great place to pick up quality tools at a great price.  When it comes to nailers, check out their Pierce & Central Pneumatic brands. *Air Compressor Required 
Borrow one.  Pretty self-explanatory but ask around to see if you can borrow one from a buddy.  If you plan your project right (design is laid out, cuts are made, finish coat is dry) you should be able to finish up the nailing portion of most projects in a day or two.
Hammer & Punch method.  Do it low cost and do it yourself using a small punch and hammer to set nail heads.  This was the method I used before purchasing a Pierce gun from Harbor Freight.
Never used a hammer and punch before to set trim nails?  Well, if not.  Get ready for a lesson in patience.
My Technique:
Hammer in the nail as close as possible to the surface of the work material.  Once the nail head is about flush, place the appropriately sized punch on-top of the nail and then strike the punch with a hammer to drive the nail under the surface.  Fill the nail hole with the putty or spackle of your choice.
This method may take a bit of practice to get a hang of the technique.  Test it out on come scrap material to get comfortable with holding the punch steady and making good strikes.
---
Battery Powered…the Future of Tools?
Advancements in brushless motors and battery technology have pushed battery powered tools to the next level.
In many cases they have just as much power as a corded tool but offer much greater portability.  To see more options, check out the articles below: